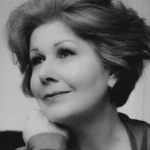 June 22, 2017 | By Robert Windeler
In her ravishing show Carried Away at Don't Tell Mama, Amy Beth Williams proved to be a superb singer, a subtle actress, and a compelling interpreter of lyrics. Beautifully directed by Tanya Moberly, this 65-minute set displayed Williams as an artist painting on a broad but seamless canvas. While the show's ostensible theme was war of the military variety, and most of its songs were pretty directly related to armed combat, it was also the wider conflict of human craziness, and dealing with it with love and redemption, that was on offer. I'm not sure whether anyone else could have begun her show by walking through the audience, toward the stage, singing a few a cappella bars of the World War I warhorse "Pack Up Your Troubles in Your Old Kit Bag (and Smile, Smile, Smile)" (Felix Powell, George Asaf)—and instantly connect with that audience before they could even see her properly. By the time she reached the stage and her full instrumental backing, it was clear that the audience would be on board with war as a metaphor for chaos and beyond.
"Whistling Away the Dark" (Henry Mancini, Johnny Mercer, from Darling Lili) continued the World War I theme. It was followed by another, later, Julie Andrews song, "Crazy World" (Henry Mancini, Leslie Bricusse), that firmly asserted that we are all "full of crazy contradictions." The show's title song, "Carried Away" (Bernstein, Comden & Green), then further broadened the theme to include the whole of "modern man" as "a collection of complexes." From then on, the Williams song list was beyond eclectic, and yet all of a piece. She breathed fierce new life into such familiar cabaret staples as "The Windmills of Your Mind" (Michel Legrand, Alan & Marilyn Bergman), "I Will Wait for You" (Legrand, Norman Gimbel), and "And I Was Beautiful" (Jerry Herman). Other post-World War II composers returned Williams to more overtly (anti) war themes: Leonard Cohen ("The Story of Isaac" and "Anthem"), Jacques Brel ("Sons of"), and Frank Wildhorn and Jack Murphy (their "I Never Knew His Name," from The Civil War, evoked every anonymous dying soldier and his nurse from every war that ever was).
A superb singer deserves nothing less than a superb backup band, and Williams enjoyed just that with musical director, arranger, and pianist Daryl Kojak, bassist Ritt Henn (who doubled on ukulele), John Henry Williams on violin and guitar, and Will Holshouser on accordion. As they repeatedly demonstrated in generous solo spots, this was the first team at the top of their form. At times, they even seemed to fill the stage like a full orchestra. Henn, with Mary Liz McNamara, also contributed the show's almost-outlier song, "Trip Momma." This number made glancing reference to the horrific accident Williams suffered a few years back. In true this-show-isn't-about-me style, she almost glossed over this reference and asked her audience "Have you ever really had a day as bad as anyone during The Blitz?" The show's visual touches and costuming were minimal, but effective. Williams clutched a large bouquet of poppies throughout one song, only to throw them on the ground when the song was over, a memorably chilling reminder that whatever "it" is can quickly fall apart.
In the World War II portions of the show, Williams paid tribute to two sentimental centenarians of the era. Vera Lynn, who turned 100 earlier this year, was honored with three of her signature songs, including this show's double-threat finale: "We'll Meet Again" (Ross Parker, Hughie Charles) and "Be Like the Kettle and Sing" (Tommy Connor, Walter Ridley, Desmond O'Connor). Irving Berlin, who died at 101 in 1989, was represented by the comic complaint he himself sang in the movie This Is the Army, "Oh How I Hate to Get Up in the Morning." Williams sang just the right encore for a born optimist: "It's a Lovely Day Tomorrow," which was written by Berlin and made famous by Lynn.
This run marked the show's second return engagement. Unfortunately, I saw and am reviewing the show's final scheduled performance. One can only hope that more dates will be added in the future to accommodate an even wider audience. In some 40 years of reviewing cabaret, I have never seen a better show.
Carried Away
Don't Tell Mama – May 31, June 14