October 19, 2020 | By Mark Dundas Wood | Add a Comment
Repertoire for the Once and Future American Songbook
Song #7 in this running series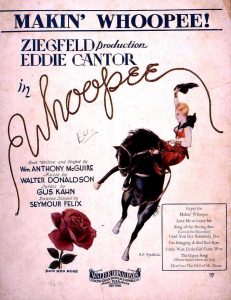 "Whoopee" on stage.
Walter Donaldson and Gus Kahn's "Makin' Whoopee," first sung by Eddie Cantor in the 1928 musical Whoopee!—is a hardy comedic evergreen. While researching it, I was startled to discover that the person I would most have wanted to interview was…Sir Winston Churchill.
In Banjo Eyes, a 1997 biography of Cantor, author Herbert G. Goldman describes an early-1930s meeting between Cantor and Churchill in the dining room of London's Savoy Hotel. The statesman asked Cantor how many verses of "Makin' Whoopee" he could recall. Cantor came up with a half dozen.
"I know all the choruses, my boy," Churchill replied, after which he proceeded to sing several that Cantor had forgotten. Cantor claimed to have been deeply moved by the encounter.
The anecdote illustrates the expansive nature of this clever and breezy yet pointed song. If you check out the many recordings made over the decades, you'll be impressed not only by the quantity of whoopee that has been made since 1928 but also by how many variations on the song's lyrical content there have been.
Very Good, Eddie!
The basic story embedded in the song is a light-hearted account of a young married couple, who remain nameless. Their life is idyllic until a baby arrives. After the blessed event, the husband makes himself scarce. Eventually, he is accused of unfaithfulness and winds up in divorce court, facing possible imprisonment for failure to pay alimony. (Kahn's lyrics, by the way, never make it fully clear whether or not the once-blissful groom has actually cheated on his bride.)
Choosing to tell his story in present tense is a brilliant choice on Kahn's part. Doing so gives the song the immediacy and universality of a classic "guy walks into a bar" kind of joke. Think of how different the piece would have come off had he written "The groom was nervous. He answered twice."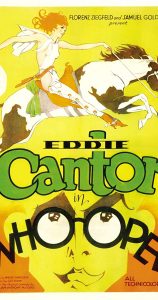 "Whoopee" on screen.
For the 1929 studio version, made soon after the show opened, Cantor sings an introductory passage ("Every time I hear that march from Lohengrin…"), which many later vocalists have skipped. This first-person narrator clearly sympathizes with the groom, who is referred to as a "fallen brother." In the verses that follow, we get the version of the song that has become most familiar over the years. Note the inclusion of orchestral quotations from both Richard Wagner's "Bridal Chorus" (from Lohengrin) and Felix Mendelssohn's "Wedding March": Listen to this audio version with Eddie Cantor.
The native industriousness of Kahn seems to be responsible for all of those extra choruses that Sir Winston remembered. In Cantor's 1957 memoir Take My Life, the star recalls working with the lyricist on the stage version of Whoopee!, produced by Florenz Ziegfeld:
"We'd leave rehearsal at five-thirty and Gus'd say, 'I'll see you at six-thirty with the second chorus.' He'd not only be there with the second chorus, he'd be there at six-fifteen. The show opened. You'd sing a number of encores in act one. The audience demanded more and more. Gus'd say, 'I'll see you with new choruses for the second act,' and he'd go to the men's smoking room and write them."
Composer Donaldson was not so ambitious. Cantor found him amiable but irresponsible. The relationship between the two songwriters sounds a bit like the Richard Rodgers / Lorenz Hart partnership. Donaldson was, nonetheless, a talented melody-maker. Before their Whoopee! collaboration, the Donaldson/Kahn team had written such enduring hits as "Carolina in the Morning" and "My Buddy." Besides "Makin' Whoopee," they had another hit in the Whoopee! score: "Love Me or Leave Me," performed by Ruth Etting on Broadway but cut from the later film version.
If you're interested in Hollywood's depiction of that first Whoopee! production, have a look at the 1941 Kahn biopic I'll See You in My Dreams, featuring Danny Thomas as Kahn and Doris Day as Gus's wife, Grace.
When Whoopee! was filmed (in color!) in 1930, again with Cantor, a different introductory passage was incorporated (using the same melody heard in Cantor's first recording). Following this are additional lyrics that set the stage for the bride-and-groom story. They describe the ambient whoopee made by the "flowers and trees-es" and birds and bees-es." Subsequent lyrics in this version outline the approaches the bride uses to trap her prey: flirtation, sweet talk, and the gifting of baked goods.
Incidentally, Whoopee!'s plot, both in the stage show and the movie, has nothing to do with the story we hear in the song, other than the fact that Cantor's character and a group of chorines gather for a wedding and have some time to kill before it starts. Perfect time for a production number! (While watching this clip —click here— notice Cantor's pantomimed allusion to new-and-improved telephone models when he sings the line "He doesn't phone or even write.")
Down Through the Countless Ages
The listing for "Makin' Whoopee" on the invaluable SecondHandSongs website suggests that the title's popularity has waxed and waned over the 90-plus years since its debut. The number of recordings during the 1930s, 1940s, and 1970s is small compared with that of other decades. Perhaps the song was considered too racy by record companies in the early years and too tame for the era of "Love to Love You Baby" and "Afternoon Delight."
In certain early iterations—including recordings by the Paul Whiteman orchestra with Bing Crosby (1929), the King Cole Trio (1947), and Frank Sinatra (1956)—Kahn's parable comes to a premature halt, with the put-upon groom "washing dishes and baby clothes" but not yet accused of infidelity. Sinatra—rather boringly—even repeats the first part of the story instead of following it through to its bitter but amusing end. Was this done in order to sidestep the topic of adultery? Or did he and other male singers and their producers want to let the groom off the hook in divorce court?
Marlene Dietrich didn't tiptoe around sexual content when she performed "Makin' Whoopee" in her concerts during the 1950s. Noted for her blurring of gender roles, the star put an androgynous spin on the story that provides subtext for free-spirited folks of all sexual orientations. She seems amused and delighted by the bride-and-groom's predicament. Perhaps she's isn't rooting for either party but instead celebrating the human libido that keeps the whole human circus going. Listen to Marlene here.
James Beaman (Photo: Stephen Mosher)
Bistro honoree James Beaman has portrayed Dietrich in multiple club acts, including 2001's Black Market Marlene (his farewell performance at the now-gone Manhattan cabaret Judy's). He applauds the singer's ability to be simultaneously sexy and "wryly funny":
"When dressed as a man, she liked doing 'men's songs'—she brought an insouciance, a swagger to these songs, and, of course, they made her all the more sexy as a woman….The arrangement had a Latin feel, a sort of cha-cha, which gave it a slinky style, very different from the comic bounce of Cantor's version."
Beaman sang "Makin' Whoopee" as Dietrich, taking a sort of double-drag approach. He was a man portraying a female star dressed in top hat and tails. "I made my way through the audience with it, flirting with patrons, teasing couples with some of the naughtier lyrics. Marlene was appealing to both men and women, and I played on this throughout my show." Watch Beaman in a Dietrich take on "Whoopee."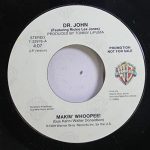 "Whoopee" on disc.
In later decades, the song was given new life in recordings that would bring it to the attention of future generations of aspiring cabaret singers. Harry Nilsson included it on his 1973 album A Little Touch of Schmilsson in the Night. In 1989, the song opened the Dr. John album In a Sentimental Mood, where it was sung as a duet with Rickie Lee Jones. And, most famously, Michelle Pfeiffer performed a torrid take while writhing atop a piano in the 1989 film The Fabulous Baker Boys. Judge for yourself. (Like Crosby, Nat King Cole, and Sinatra, Pfeiffer left out the choruses in which the groom is accused of infidelity—giving us the frolics of Eden but not the subsequent banishment.)
Twenty-first Century Whoopee
Manhattan cabaret performers Tanya Moberly and Wendy Scherl drew on some of these earlier influences when they shaped their own renditions.
Tanya Moberly (Photo: Takako Harkness)
Two-time Bistro honoree Moberly doesn't recall the first time she heard the song, but she remembers learning the euphemism "whoopee" while watching TV's The Newlywed Game. A bit later, she would see the 1979 Broadway Whoopee! revival that starred Charles Repole in the Cantor role.
She would go on to include "Makin' Whoopee" in a Nilsson tribute show, performed at Don't Tell Mama in 2017—with Jon Weber as her pianist and musical director. The framework of the show incorporated not only Nilsson's own material but also songs heard in the middle 20th century, when the singer/songwriter was growing up. These standards commented on the unfortunate early years of Nilsson's life. His father, Moberly explains, was not unlike the groom in the song:
"He didn't pay alimony. He disappeared. Harry's mother lied to him—said he went out to sea or died. In truth, his father just left him, never kept in touch. Never sent anything. He had a whole other family and didn't appear [again] until Harry was famous."
Moberly's approach to the number was sardonic but leavened with a philosophical "that's life" attitude. "These two are headed for a ravine," she explains. "This is gonna happen the way it happens to everybody…. It's almost like you see it coming down the pike. They get married. Everything's great. And then—a year later, right? She feels neglected. And then he's suspected. And then, the judge. It's genius. It's so well-written."
In the context of Nilsson's autobiography, spousal discord, poverty, and the threat of actual imprisonment are serious matters. But Moberly found tongue-in-cheek fun and cleverness in the number as well. She was aided and abetted by Weber, who added some witty piano adornments. At the line about the groom's paltry income, he inserted a quotation from "The Gold Diggers' Song (We're in the Money)" by Harry Warren and Al Dubin. Watch it here. And in the last number in the show, "As Time Goes By," he brought back a fragment of "Makin' Whoopee," echoing Moberly's earlier performance of the song.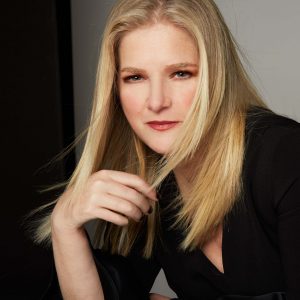 Wendy Scherl (Photo: Bill Westmoreland)
Scherl was aware of the song even as a young child, but at around age 13, she heard Dinah Washington's recording of it (listen to it here) and, for the first time, paid close attention to the lyrical content.
A few years later, she encountered the Fabulous Baker Boys rendition, which she calls "an iconic version of the song that really didn't have much to do with the song." It was, she says, all about Pfeiffer's performance.
She had long wanted to sing the number herself, but she didn't perform it until 2017, in her Don't Tell Mama show New Scherl in Town, directed by Barry Kleinbort. This program marked her turn toward American Songbook titles instead of "quirky songs that nobody knew."
Scherl had heard Barbara Cook sing "Makin' Whoopee" live in one of the star's final performances. Now she listened to a recording of it and noted the obscure verses that Cook had included at the end of the song: Hear Cook swing as she sings "Whoopee."
As Scherl, Kleinbort, and musical director Martin Denny began planning their approach, they decided to use some of these forgotten lyrics in order to stress the idea that the joys and perils of whoopee-making remain eternal.
She treated the song as a "cautionary tale," but a good-hearted one—a friendly warning to men that consequences are in place for recreation that lapses into procreation. She finds it to be a "delicious" song: "There's not a line that goes by that doesn't have something in it, that doesn't have some meat to it."
She points to the words in the first bridge:
Picture a little love nest
Down where the roses cling.
Picture that same sweet love nest.
Think what a year can bring.
"There's so much in those four lines," she says. "And 'sweet' is such an important word, and it's easily missed. But it's the 'tell' for what's coming…. Each verse has a tell for the next one."
As for the musical components, she and Denny experimented to find the right tempo. On certain versions of this song (Bing Crosby's, for instance) there's a tendency to race through to the conclusion. On the other hand, one doesn't want things to drag.
"I wanted to make sure that we had time to get the story in but…that we were not drudging along…. Eventually, we found a good rhythm that went with my storytelling."
She agrees with Moberly that the number was a pleasure to sing. She and her musicians (Denny, bassist Bob Renino, and drummer Rex Benincasa) entered the playful and vivacious spirit of the piece, as did her audience. Most nights she was able to get club-goers to listen carefully to the story, rather than "just saying to themselves, 'Oh, she's singing "Makin' Whoopee." ' "
"The more the audience lapped up," she says, "the more fun I had." Watch Wendy Scherl tell her "Makin' Whoopee" story.
Scherl advises that, for this song, vocalists look to the words first, ahead of the notes. "I think you will find your 'feel' and how you want to share the song and put it out there."