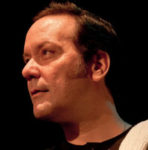 April 12, 2017 | By Gerry Geddes
The title of Dan Ruth's remarkable show, A Life Behind Bars (currently enjoying a run at the Laurie Beechman Theatre), might lead one to expect an exposé of the prison system, but the bars in question are of a much more common variety—the drinking dens and dives of New York City and environs. In the course of his life in the city, Ruth had served patrons of all stripes, and allowed his own life to devolve into a prison of liquor and drugs as he struggled to survive. As both a gifted writer and an actor of impressive dramatic and comedic strength, he has created what amounts to The Search for Signs of Intelligent Life in New York Bars. His quicksilver changes of character, mood, and setting warrant comparison to the great Lily Tomlin, and that is praise I do not give lightly.
His story and his world are much more contained and limited than Tomlin's, but his creation of fully realized, recognizable characters is equally magical. The one constant is Ruth, himself, defined and identified by the white bar rag he keeps on his shoulder like a badge or a uniform. He guides us through descriptions of the high and low places he's been employed, acquaints us with the jargon of his very specific world: defining "86'd," telling us how to get a buyback or free drink. We learn of his efforts to get cast in something or anything—for example, the Saturday Night Live casting agent who, having expressed interest, asks "Are you a faggot?" before rejecting him. And we follow his relationship with alcohol from celebration, to self-medication, to self-destruction.
The patrons emerge whenever that bar rag is removed—that's pretty much the set and costuming for the evening and that's all the actor needs to create this world. We meet a dictatorial inspector from The New York Department of Health and Mental Hygiene terrorizing the hapless bartender with the tiniest of infractions. There is an irritating yuppie trying to appear hip and cool as he struggles to get the attention of the bartender and hold the attention of a group of young business types he's gathered for pre-dinner drinks in hopes of sparking their interest in a potential investment venture; his sad and failed attempts at all of the above provide laughs and a few pangs of pity. We meet Sarah, a Long Island matron of a certain age who drinks a bit too much, laughs a bit too aggressively, and talks a bit too loudly, and whose heart belongs to Andrew Lloyd Webber, which she proves with occasional painful lapses into song as she has her pre- and post-show libations with her best friend, Mimi.
We follow Ruth's failed attempt to make a lasting connection with a Goth skater-boy trick with whom he shares a love of horror movies, hard rock, heavy metal, and lesbian porn. We experience with him a chilling descent into the maelstrom of withdrawal and DT's that's treated as the serious horror that it is—no funny asides to give us even the possibility of escape. What begins as a guided tour through the city's nightlife becomes, by the evening's end, a harrowing tale of pain, loss and redemption. It is as surprising as it is moving.
The show has been smartly directed by Tanya Moberly, who impressively utilizes the room itself as an extension of the stage. I wish that the denouement about his gratitude, his salvation, and how the show came to be had somehow been incorporated into his well-developed world. Instead of presenting this as a final scene, he addresses us not as bar patrons, but as the audience. This comes too close to being a maudlin traditional "cabaret thank you"—especially disappointing after a journey marked by strong, direct presentation of life without excuse or apology. But the show is so strong, so funny, so passionate, and so special, that the damage done is minimal. For the audience, A Life Behind Bars affords the exciting opportunity to watch a gifted actor flex his artistic muscles and mesmerize with a compelling story of his own devising.
Laurie Beechman Theatre – April 4, 25, May 9, 17