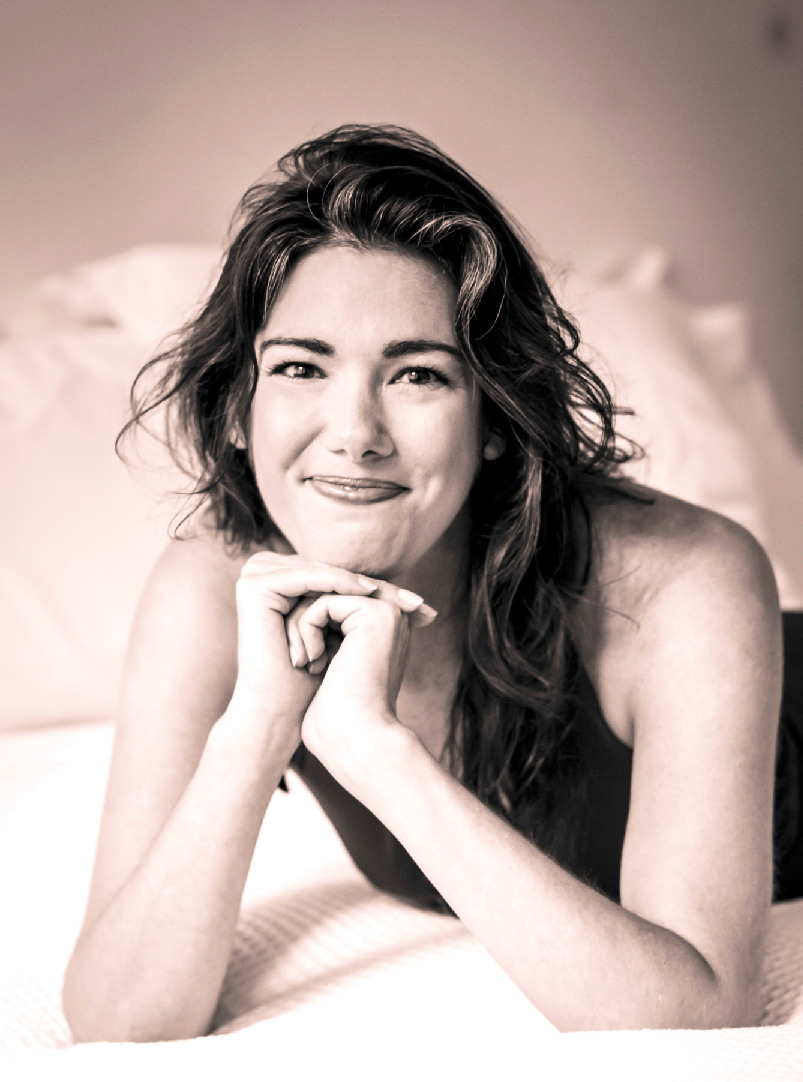 November 16, 2017 | By Penelope Thomas
Delightfully bookended by "Stay Awake" (Robert B. & Richard M. Sherman), Marnie Klar's new show, Bedtime Stories, features nighttime, fairy tale, and storybook songs. Skillfully directed by Tanya Moberly, Klar presents her theme in a brief but illuminating introduction, in which we learn that this her her first cabaret that isn't…personal. And here is where we tip our hats to this team, because it's sometimes when we get past the obviously personal content that things actually have room to breathe and become personal. After the introduction, the songs are almost completely back-to-back, with consistently interesting variations in staging and well-paced changes of mood and tempo—a very successful structure with a seamless forward motion.
Klar makes every song her own, with an articulate, lyric-centered delivery. Her nuanced acting beats show a balance between the strength of a prepared, well-directed performer and the vulnerability of a person of strength and emotional depth. When she sings "Only my book in bed/ Knows how I look in bed" in Rogers and Hart's "Why Can't I?" we can picture the classic nightdress, the nightlight, the mournful glance around at the presence of a beside novel, and the absence of a special someone. Her rendition of Cole Porter's "The Tale of the Oyster" is complete with lovely character voices that got out-loud laughs from the audience. With comic deadpan, "The Boy From" (Mary Rodgers, Stephen Sondheim) features an entertaining fake Castilian accent, and Klar sails through all the parody language without missing a beat. "Something Cool" (Billy Barnes), made famous by some of the best 1950s chill "girl" singers, such as June Christy, becomes far more than a story of possible casual romance, and is, instead, a study of composure in the face of burning disappointment.
"Eleanor Rigby" (Lennon & McCartney) is part of a running sub-theme about the sorrow of not belonging; Matt Scharfglass makes the cello parts sing on bass. Janis Ian and Kye Fleming's tragic, love-for-sale "Ruby," is raw and passionate. Sarah Bareilles, Carly Simon, and Nik Kershaw are all great singer-songwriter choices for Klar's songlist because it sounds as if she's developing a pop sound of her very own. Interestingly, she keeps the very diction-centered approach of musical theatre in her pop singing, but manages never to make that sound prissy or affected, which really speaks to her integrity as a performer. In this same spirit, Bobbie Gentry's "Ode to Billy Joe" has been cleaned up for town and doesn't sound obviously country—which is fascinating considering that the song starts with the protagonist chopping cotton—yet it works very well because of her focus on just telling the story. Pianist and arranger Steven Ray Watkins supplies backup vocals for many of these songs and he sounds great. He's an attentive accompanist, making crisp rhythmic choices, and he does a good job of packing what is clearly soloist talent into a supportive role. "Ob-La-Di, Ob-La-Da" (Lennon & McCartney) is a bouncy sing-along encore, an invitation to just throw your hands up and smile at the way life goes on.
Bedtime Stories
Don't Tell Mama  –  October 25, November 8, 10, December 9