The MAC & Bistro Award-winning artist's live recording performance was a hit with the audience
By: Analisa Bell Oct. 08, 2023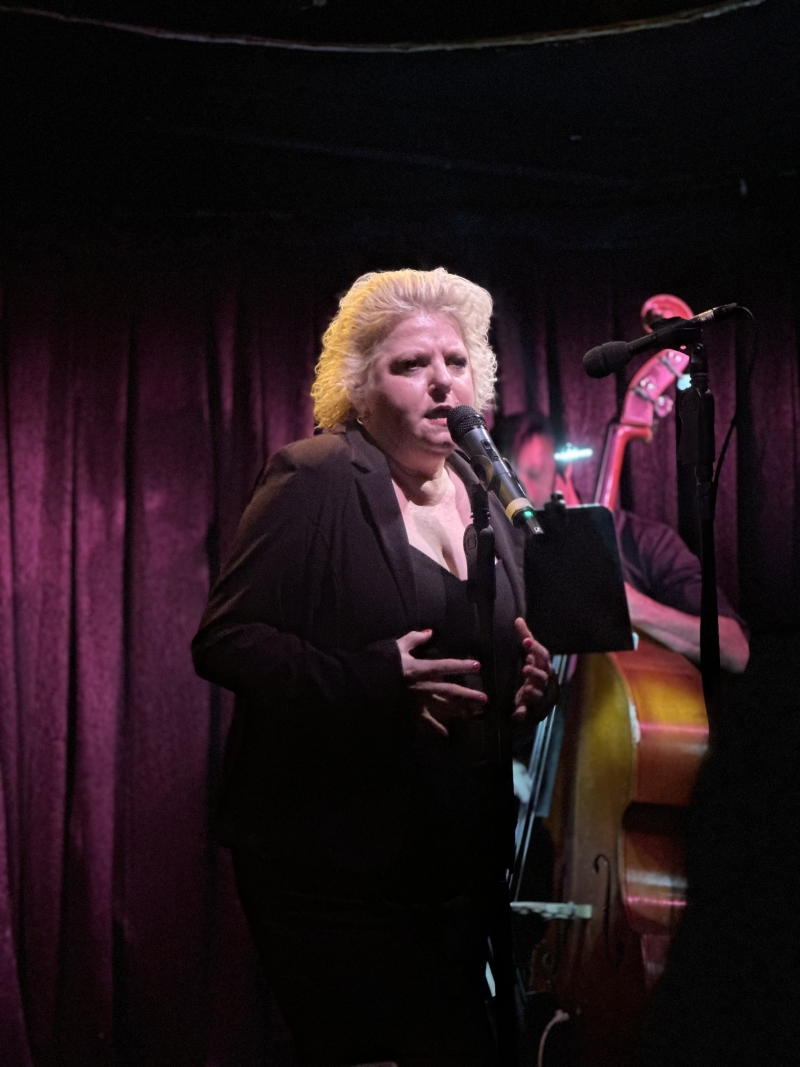 Don't Tell Mama was "a-buzz" on Friday night as the audience prepared to watch Tanya Moberly's live recording of PART I of her project, I LOVE NEW YORK SONGWRITERS.
Moberly recently ran a highly successful Kickstarter Campaign to raise funds ($60k in 60 days) to finance the recordings, release, and promotion of the final product, which will comprise of PART I and PART II. The project includes 45 songs by NYC songwriters that Moberly has met over the years through her work as both a singer and producer, many of which she discovered at Mark Janas' The Salon, a Sunday evening staple of the cabaret and songwriting scene, for which she has won six MAC Awards as producer over the past eight years.
The opening number of the evening was "How I Wish," a self-penned number Moberly says, "insisted on being written," about multiple-MAC Award-winning guitarist Sean Harkness, who, if you know you know, is as easy on the eye as his fingers are on the fretboard of a guitar. As soon as the song began, the audience knew they were in for a fantastic night of music and storytelling!
Moberly had prefaced the show with a note to the audience letting them know that, as it was being recorded live, she needed to stay in the same place, center stage. That didn't matter one iota, as Moberly mesmerized the audience with her exceptional talent for storytelling. In songs like "Some Lucky Girls" by Bob McDowell, and "A Monster In These Conditions" by Tim Di Pasqua, Moberly filled the space adjacent to the microphone with her precise gestures and captivating facial expressions, carving out the story of each song, masterfully.
Moberly is the ultimate pro at connecting with her audience. She takes her time and seems to look at every audience member, individually, connecting with each of them with such prowess that this reviewer found it hard to look away to take notes. Her comic timing is impeccable, as is her phrasing – "Maintenance" by Ritt Henn was a case in point, as her delivery elicited howls of laughter from the audience. Another treat was the walking bass line in the number, provided by none other than the incredible multiple-MAC Award-winning bassist, Matt Scharfglass, who had everyone grooving in their seats.
Moberly's band, including Scharfglass, Bradley Bosenbeck on violin, and the incomparable Steven Ray Watkins as Musical Director, was on fire as they worked cohesively to accompany Moberly's powerhouse vocals. Each musician also had the chance to shine with a plethora of solos mapped out throughout the show.
Every song in the show was a cleverly crafted morsel, including the likes of the comical "Haiku" by Mary Liz McNamara, and "Pluto Song" by Dan Furman (w/ Ruth Weber), which gave the audience a chance to sing the phrase "Bring Pluto Back" with fervor! Towards the end of the show was "Hold My Hand" an exquisite ballad by Jeff Blumenkrantz which brought a tear to the eye of the artist and several audience members (including this reviewer), followed by an utterly hilarious bridesmaid's lament, also by Blumenkrantz, entitled "Drink My Way" which, if you've been a bridesmaid (and you're still single), you will most definitely relate to!
There are so many more songs and writers to mention. If you're a cabaret singer looking for fantastic material, get thee to Don't Tell Mama for Moberly's next take of PART I on Friday, October 20. You'll also hear pieces by songwriters Francesca Blumenthal, Richie Eisenberg, David Hajdu, AC Haley, Bobbie Horowitz, Nicholas Levin, Steven Lutvak, Jill Sobule, and Bill Zeffiro. And if you're hungry for more, PART II will be recorded at Don't Tell Mama on November 3 and 17.
And finally, a haiku inspired by the show:
An Incredible Artist
Who you must go see!
You can reserve seats for Moberly's upcoming performances Click Here
For more on Moberly: https://tanyamoberly.com/
Read about her successful fundraising campaign here: https://www.kickstarter.com/projects/tanyamoberlycreative/i-love-new-york-songwriters-tanya-moberly-live-album
Show image by Rian Keating