Kickstarter campaign hopes to raise funding by September 6th.
By: Stephen Mosher Aug. 09, 2023
For twenty-six years Tanya Moberly has been a pillar of the cabaret community, beginning her career as a performer before making progressions into other corridors of the industry like directing and producing and, eventually, operating as booking manager at the iconic Midtown Manhattan cabaret Don't Tell Mama (a role she shares with Sidney Myer). In her role as director, she has guided numerous artists to the podium to accept awards of various natures, and in her position as producer, Tanya has helmed the popular open mic program SALON, the industry's most lauded open mic night. Now, as a booking agent, Tanya seeks to provide a safe space for artists to present their stories, taking a particular interest in giving newcomers to the industry a shot at stepping into the light. All the while that Tanya Moberly has been supporting others, though, she has continued her own work as a storyteller -one of the best in the business. And now Tanya Moberly is taking her artistry to a new level, and a new room.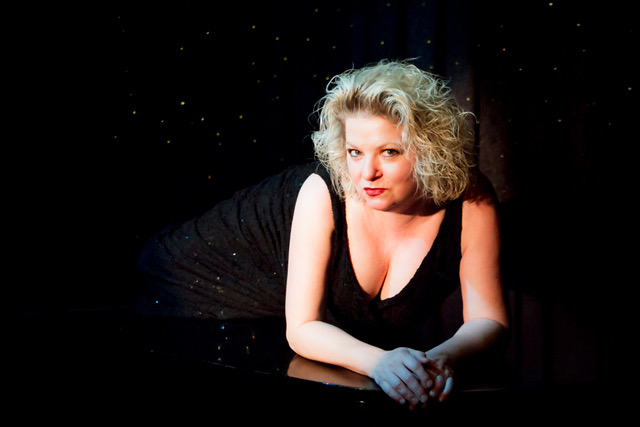 With many hit shows on her CV, Tanya Moberly has had a particular passion project that has been one of her most popular series (Moberly loves a good theme project).  The I LOVE NEW YORK SONGWRITERS series has given Tanya a chance to showcase the gifted artists of Manhattan that create original musical material for the club singers and musical storytellers of the recording studios.  As a singing actress and cabaret and concert staple living and working in Manhattan all these years, Moberly has had many chances to meet and make music with the likes of Jeff Blumenkrantz, Tony Award winner Steven Lutvak, Grammy Award winner Julie Gold, TikTok sensation Scott Evan Davis, cabaret poet laureate Meg Flather, and her late and beloved colleague, Rick Jensen.  Her dedication to these artists and their craft led her to create the I LOVE NEW YORK SONGWRITERS series, which has been packing audiences in at her artistic homebase of Don't Tell Mama for so long that the series has actual volumes to it, not to mention an enormous catalogue of compositions.  Those compositions are now to become an album – Tanya Moberly's first one.
Recently, Moberly announced her intention to record forty-five songs from the I LOVE NEW YORK SONGWRITERS shows, songs by the artists listed above and many others who have provided original material for cabaret artists for decades now.   Although much work will be done in the studio, mixing and mastering the forty-five album cuts, the music will be recorded live over four nights in October and November, when Tanya presents the entire I LOVE NEW YORK SONGWRITERS collection at Don't Tell Mama to what are sure to be sold-out houses, since Moberly mostly plays to at-capacity rooms.  An impeccable and entertaining storyteller with a versatile verse that can handle everything from Janis Joplin to Mrs. Lovett, Tanya Moberly's fan following is considerable.
To aid in the creation of the immense album intended, Moberly launched a crowdfunding campaign on July 8th, seeking to raise sixty thousand dollars (by September 6th) to offset all of the costs, which every creative (whatever the medium) knows can be extensive. Fortunately, the times in which we live lend themselves to this kind of fundraising and many popular films, books, recordings, television/streaming series have been born out of Kickstarter campaigns like the I LOVE NEW YORK SONGWRITERS campaign. When a new crowdfunding page kicks off, it's anybody's guess how it will do. Hopes are strong that the double disc will come to fruition, thanks to the generosity of the public at large, not to mention the members of Moberly's own artistic community, all of whom seem to always come through for each other in times of need.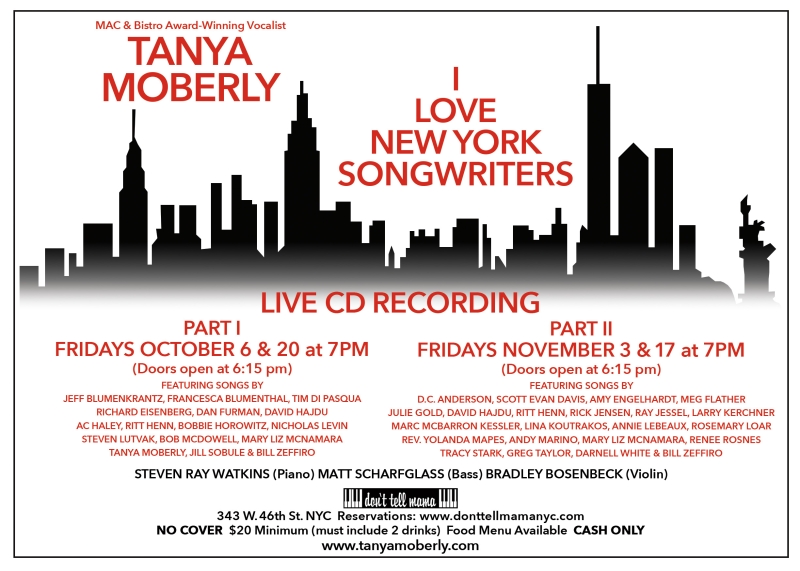 For her four upcoming performances of I LOVE NEW YORK SONGWRITERS, Tanya Moberly will be joined by her longtime esteemed colleagues, her band, her musical family Musical Director/Pianist Steven Ray Watkins, Bassist Matt Scharfglass, and Violinist Bradley Bosenbeck. Of course, these three artists may be the core group in Moberly's work world but her artistic family reaches far beyond these three gentlemen, since she has been personally acquainted with each of the songwriters to be featured on the album, as well as any number of musicians with whom she has worked over the years, as is the case with her ongoing show MOBERLY AT MAMA'S MONTHLY, a program in which her Musical Director changes with each new production. This is the mindset and the life of an artist the like of Tanya Moberly, who has been a fascinating and fabulous creative to observe these last twenty-five years. It will be interesting to see what art and adventures she, next, embodies, beginning with the I LOVE NEW YORK SONGWRITERS album.
Visit (and contribute to) the I LOVE NEW YORK SONGWRITERS Kickstarter campaign HERE.
Reserve seats to the October performances HERE and the November performances HERE.

Visit the Tanya Moberly website HERE.
Update taken from the Facebook page of Moberly collaborator Betsyann Faiella, concerning a matching grant that ends this Sunday night, August 13th: